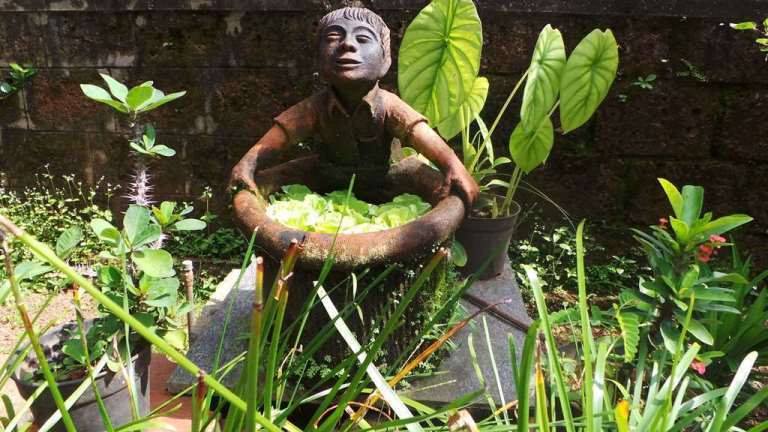 Flashback-
The last time I visited Venki's (He is Venkataraman Kamath but known to everyone as Venki Palimar) terracotta workshop was twenty years ago. When he had just started out and I was in college. He was a friend's cousin and I was very interested in art. I remember when we got down from the bus, he was waiting for us and took us home through what seemed a jungle at that time. But now, it's all changed. With broad roads and areas marked, finding the gallery in Palimar was easy peasy (That's my daughter's slang for you!). His mother's got great memory. She remembered me from back then (I am sure I have changed quite a bit from then!!) and insisted I have lunch with them. So it was more like catching up with all that happened in the last twenty years with terracotta artist Venki Palimar.
Early morning, before going to school, he would get some clay from the fields and make small Ganapathis out of them. He would hide them and go off to school. But his grandfather knew of this hobby and would look for the day's Ganapathy and immerse it in the well( as clay Ganapathis were only to be done during Ganesh chaturthi and had to be worshipped according to rituals). The young boy would return from school and cry for the lost Ganapathy. In school his books used to be filled with drawings and science was his favourite subject because, that was where he was required to draw! With a reason like that he was bound to study art. Venki fondly remembers Mr. K V Bhat, the Principal at Junior College Palimar who told him about the art course in Udupi and refused to take his application for college.
The Beginning-
No man is an island and all our struggles are witnessed. When Venki realized that his calling was in moulding clay and terracotta, Venki pursued it with great passion. Mr. Balram Bhat, a well wisher, helped him expand his vision. He helped him get more exposure through books, exhibitions attended by him and any terracotta work that he came across, he shared with Venki. It was this selfless interest on Mr. Balram Bhat's part that helped him improve on his vision and imagination, shaping him into the Terracotta artist Venki Palimar. In his spare time, he would go along with an artist friend for rock climbing, a rock by the name of Nimmipade near Adve. His own struggle to master the art, achieve in life and his experience while climbing the rock has inspired him to do a series on rock climbing. Though he shares this with me, he says he prefers the viewer to have his own interpretation.
But baking the life sized art pieces presented a problem when many of his art pieces would not survive the process. He was clearly disheartened as his work needed to withstand the 'agnipareeksha' (test of the fire) at the baking kiln to be a success. Even when the tile factory closed down, he continued working in the medium, until there was no more space in the house to walk around. At this point he came across another mentor, Ramakrishna Kamath who owned Uma tile factory in Hejmady. He visited Venki and asked him to use his tile factory for baking. From then on, there has been no looking back. He uses the same tile factory for baking even to this day and not a single piece has been damaged (It takes 15 days of baking to be ready). With this, his art received a new lease of life. Mr. Ramesh Rao, an artist of international repute from Udupi has also been his staunch supporter and I remember Venki's work being displayed in Drishya Gallery Udupi (And drooling over a rooster fruit bowl in terracotta by Venki).
Working as an art teacher in a School, his students love his enthusiasm for art and he is generous with his knowledge. The proof for this is his favourite and longtime student Laren Pinto. This young boy was sent to Venkati at the age of six to learn drawing and more importantly, to be kept out of mischief. But Venki soon realized his potential in terracotta and trained him. A very shy child, he lets his work do the talking. When I met him, I could see the close bond between the teacher and the student. Laren who is now 14, has won the national award(Rashtriya Vibhushan Rashtra Prashasthi and many more awards) and Venki is mighty pleased with his dedication. Venki especially values it as he himself became a terracotta artist without a teacher. It was a long process of trial and error, understanding the medium, the patrons and blending it with his vision.
When I ask him about inspiration, he says that he finds it everywhere. In the people around him, their expressions and the different reactions that people have. When he says that he sees everything around him from the perspective of capturing it in terracotta, I can quite understand. Nowadays anything that I see, I feel "Yes! This is something I can write about". Life has become so much more interesting this way.
Rural life appeals to him the greatest, and he has portrayed it in the farmers, school children and the local culture, be it Bhootaradhane, the lambanis or the masks. Not to forget his roots, "After all this is what I grew up with", says Terracotta artist Venki Palimar.
Now his subjects, more often than not are nature based and this old tree holds a unique appeal. Cut off but he seems to be deep in thought, and birds make do with him. In fact he had some visitors to the gallery today and when I asked them for their feedback, here is what Deepthi had to say. "Everybody just loved it. Especially the expressions captured by the terracotta artist Venki Palimar were awesome. Our favourite piece was the tree which was cut off and deep in thought, with birds on top". So it's not just me who loved the tree!
When I ask Venki about his dream, he says that it is now fulfilled with his Chitralaya Art Gallery which was inaugrated this May. Building his own gallery with a heritage feel was his dream and after planning for it for nearly three years, it is now achieved. The next step might be to build a space above his gallery for his vast and growing antiques collection. And I am sure he will do that with the support that he gets from his family and well wishers. I wish him the very best.
I now have an invite to attend his next workshop. So off I go again. Coming anyone?
Lots of Twinkles to all of you. Have a happy week.
Anupama
PS- You can contact the artist for orders at Venki Palimar – 9844813019 (Whatsapp)
I am planning to conduct a workshop with Terracotta artist Venki Palimar in Bangalore, later this year. If interested, do write to me at the email mentioned.