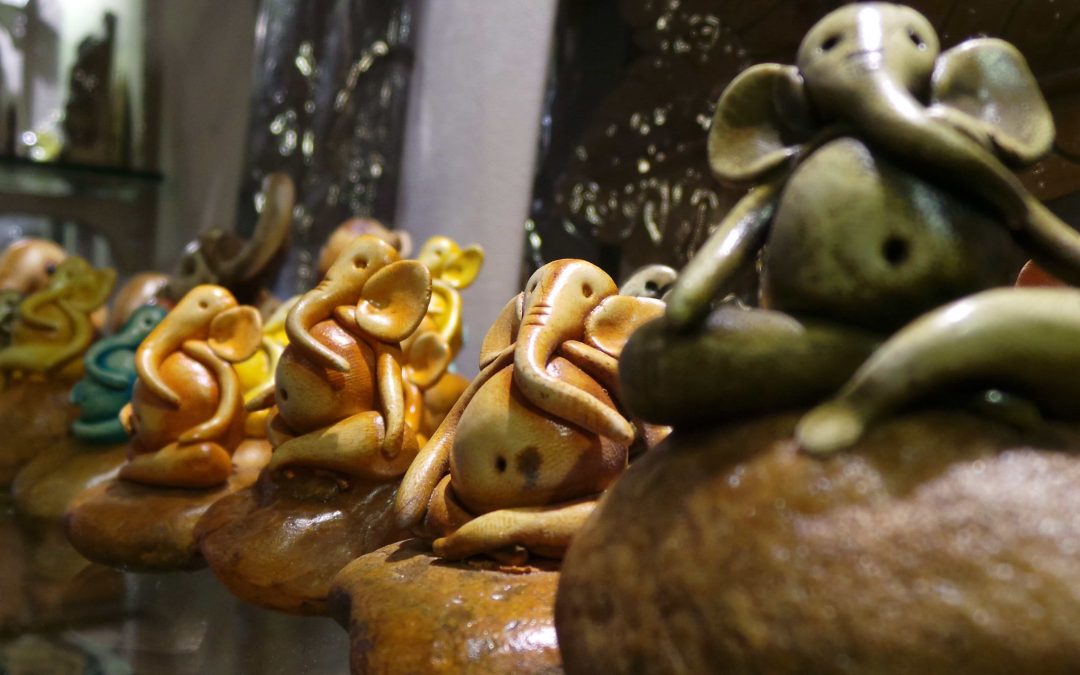 Today let me take you on a virtual tour of my favourite handicraft store in Mangalore, 'The Treasures'. When I say favourite, I have a whole lot of stuff that I bought here, including furniture. Whenever I visit my native, I make it a point to browse through this store for new finds. Their collection includes idols in brass, bronze, carved wooden pillars, furniture, home decor accessories and some more. As you enter the shop, a beautiful lady in bronze greets you and her accessory speaks of the lovely aesthetic sense the couple running this store have. Suraj and Reshma are friends and show me around their collections. They also do events and backdrops with traditional elements. For now, let me give you a peek into their store.
Yali or vyala pillars handcarved in wood, from the south belt. Very prominent in most temples at the entrance or as part of pillars. They can be found in temples across Karnataka and Tamil Nadu. Yali is a feature of the Dravidian and Vijayanagar style of architecture. It is a mythical creature- part lion, part horse or part elephant and also with the tail as a serpent and sometimes with wings. Signifying immense strength, it is believed to be stronger than any other animal. It is also believed to ward off the evil eye. So if you want to have this for your home, you know where you can get it.
Bronze and brass, Gods and Godessess with fine chiseled features. The Ganesha in a brass Mantap looks beautiful. They also customize and can get a bronze nameplate done for you.
See the Thorans (door hangings for the entrance) in metal, enamel and fabric. Notice the beautiful old door as the background to the thoran collection.
I love to check out the collection of antiques that they have. Right from kitchen utensils, urulis and soda bottles with marbles, they have a super eclectic collection.
This carved horse in wood is 80 to 100 years old. It is as found and has not been restored or reworked. There are many such treasures to be discovered here.
Any store worth its salt, should have the speciality of the town. And Mangalore being a coastal town, has coconuts as its speciality. Yes, the coconut shell art with mixed media gives it a special touch. There is also the pebble art which is very attractive and both these art forms are by the artist, Ganesh Shetty.
The car festival is an annual temple celebration and is another crowd puller. This store has replicas of the 'car' or 'Rath' in wood and in thermocol. Definitely art with the local touch.
They also have lovely wooden furniture with the antique distressed look. Some are awfully old, but some others are custom made with the distressed finish. I will post pictures of my loot from here in a separate post. So next time you are in Mangalore do check them out.
PS- Since we have had some queries on the location, let me quickly update their address
The Treasures," Brahma Samaj", Near Navbharath Circle,
KodialBail, Mangalore-575003
For queries or custom orders, contact surajkirannayak@gmail.com
And for the record, this is not a sponsored post.
Lots of Twinkles to you, have a great weekend.
Anupama