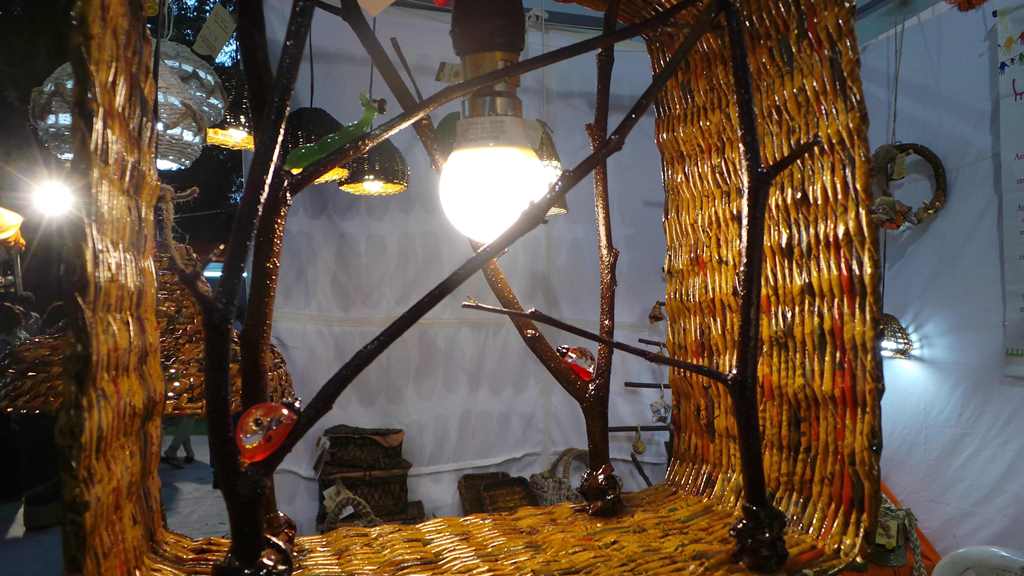 This was the eighth annual collective by AHH (a not for profit organization), but the first one that I attended. I had plans of being there every day but couldn't make it on the last day. It was such a colourful treat that coming away from it every day was a big challenge. But at the end of the day though I was tired, my soul was happy for having seen such talent and beauty of Handmade around me. On my first day I was lucky to get the Madhubani artist Vidushini Prasad and the Kaavad artist Dwarka Prasad Jangid to talk to me about their work. After that they were totally busy and on the last day I could see that all the beautiful Kaavad stories had found new homes.
I was also amazed at the energy levels of Mala Dhawan and Sonia Dhawan. They were taking care of every aspect and together with the volunteers did an amazing job at the bazaar. It was the culmination of months of preparation and planning. The artisans and artists were all happy with the successful bazaar. Inspite of the rains and the cold weather Bangaloreans turned up in good numbers and the kaarigars did brisk business.
If Day 1 was all about seeing all the stalls and shopping to my heart's content, Day 2 was about introducing my five year old to the talent and beauty of handmade. She had a lovely time, not only shopping but also making new friends and a trial at being a volunteer. She loved putting the stamp on all those who paid the entry fee. Thank you so much Anjali for the experience. She totally loved it. The cloth bags by A Hundred Hands were available for block printing and she happily indulged herself there. She was over the moon when the kaarigar told her that she did a good job and was very strong. I am happily carrying this bag with pride, after all it says I support handmade. This simple bag with blocks printed by my child is an ambassador for the beauty of Handmade.
Dolls Everywhere- This could be the tagline…when the dolls from Coimbatore met the dolls in Bengaluru. Aradhya all of four and my girl became instant friends. My child also gave her a tip on where she could buy the Kannamma doll. And as we were browsing through the stalls, these two met again. Each one with her doll, named and loved already. They would say goodbye when it was time to leave but again get back to play. It was a lovely sight to behold.
Then there were the books by Tulika… wow…what lovely books. I was like a child in a candy shop. Both my daughter and I picked up books after books. With a heavy heart I left behind so many. But I buy books very often. So some for next time! I especially loved their 'Looking at Art' series, 'Under the Banyan' series, Gajapathi Kulapathi, the gentle elephant and the A to Z of Ajrakh. Books are a beautiful way to introduce children to the beauty of handmade and folk art.
Day 3 was again a 'just me' time (don't we all need that?) at the collective. Not only did I get talking to some kaarigars and artists but I also went over the top with pictures. It was so colourful…I couldn't resist it. The Dhokra artist Rajib Maiti from Chattisgarh, Jagadish who works with leaves and onion peels, the banana fibre accessories by Gramya, Vidya Nag from Aardra who weaves newspapers, Purkal Sthree Shakthi ladies from Himachal with beautiful quilted work, the handmade dolls from Coimbatore by Shivanjali Creative Arts and Crafts, the weavers from Benares, Srutiza from RishamJewelry who weaves beads like our grandmothers used to (Detailed posts on all of them in queue). The Kerala mural work on wooden chest, the leather puppetry, Orissa Pattachitra, Miniature art, Jute and cloth weaving, beauties in glass, Himalayan Weavers working with Yak wool, Pipli work from Orissa, Batik like never before by Shunya Batik, Klaykarma with ceramic art…they were all there along with so many more talented artists.
Day 4 was again shopping with my cousin who is crazy about sarees. My daughter wanted to join us and off we went on a shopping spree. The Kalamkari artist from Tirupati, Raavilla helped us identify handpainted and screen printed Kalamkari, the elaborate process on colouring and sketching. It was very informative…
Soon the sarees from Orissa were beckoning to us, the Sambhalpuri ikats. The beauty of the weaves, the subtle colours all handwoven won our hearts and made our pockets lighter. I off course had already done a lot of shopping. So I have told my cousin to lend her saree to me next time..it's a win win you see. What do you think?
The Bengal tants, with pattachitra were also very tempting. So too the Sandoor Chitrika collaboration resulting in beautiful duppattas and blouse pieces with lambani embroidery. I loved so many things at the collective…it is impossible to choose a favourite. I also got a soft soft stole from Aranya. I also found these masks and a cute minion set in nesting dolls. After this it was time to take a break and have something yummy and scrumptious.
The food stalls were all we needed and on our way out, I spotted the 'Big Bad Wolf'…a venture on homemade yummy jams, jellies and chutneys by an architect! The plum and orange concoction was to die for…ummmm. A lot of organic food products, organic balms by Granny Gregs ( I loved the orange lip balm) beautiful handmade clothes, upcycled products such as the Denim Project by AHH, Bags and lamps made of waste plastic by Aarohana, art and craft…what else can a person ask for? It was a great evening and I happily came home all excited about the last day. There were a series of Art Appreciation workshops lined up. The Benares weaving workshop which I attended on day4 was not only about gorgeous sarees and weaving but also the kind of work and planning that goes into a single piece. Anyone who wears a saree or spends for one, should understand the process to really appreciate that it is a true labour of love. These workshops help us appreciate the beauty of Handmade. Unfortunately I couldn't go on the last day. Well not to worry, the collective is coming to fort Kochi and Coimbatore later this month. Check the AHH facebook page for more details. If you can make it, don't miss it.
Lots of twinkles to all of you.
Anupama