Khavda Pottery
"Respond to every call that excites your spirit."- Rumi Coming from the land of colours, Gujarat, a small village Khavda-Bhuj, in her colourful ghagra (traditional Gujarathi dress) with a duppatta (the shawl) covering her head, Rahima Bhen is the image of simplicity and rural India…..Khavda pottery, unchanged through centuries, is the art of making pottery with a special mud, found near the village lake called, 'Rann Ki Mitti'. The fine mud is put into water to soften it and takes any shape easily…Used on a potters' wheel called 'chakda' and shaped with hands, its special feature is its colour and the paintings adorning it. Once it takes shape, it is cleaned, sun dried and then baked in a furnace. The vessels are then coated with a thin wash of 'Geru', a type of soil which gives it the special colour. The womenfolk then paint the items, by using natural colours.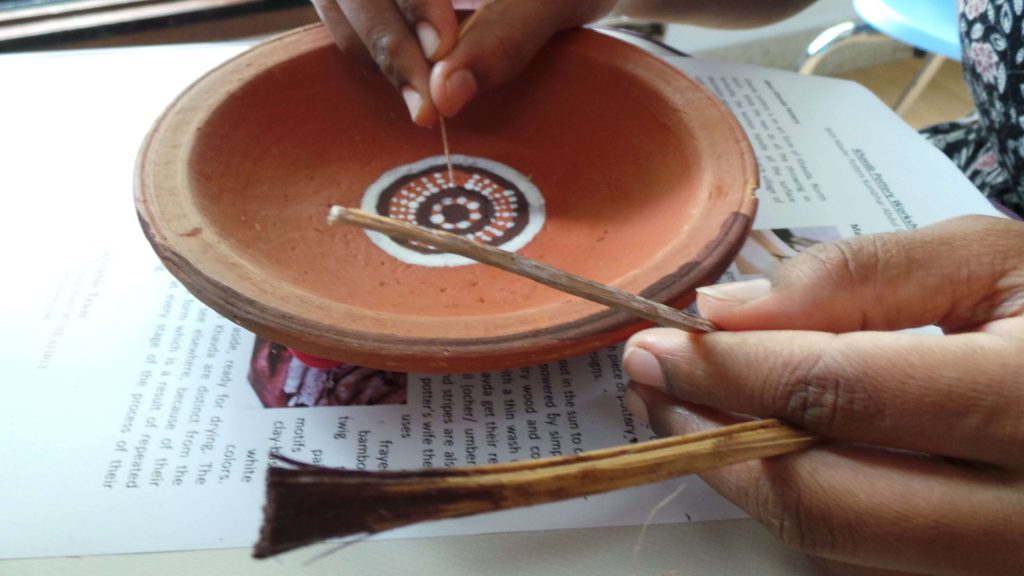 The tools of the trade-
Frayed bamboo twigs used to paint the natural colours.
Blackish red is got by pounding the stone, 'Geru' and leaving it in water.
The white is 'khari' mitti ( fine soil) mixed with water.
The clay is the special mud called 'Rann ki mitti'.
The potters' wheel ( chakda).
And lots of talent and hard work.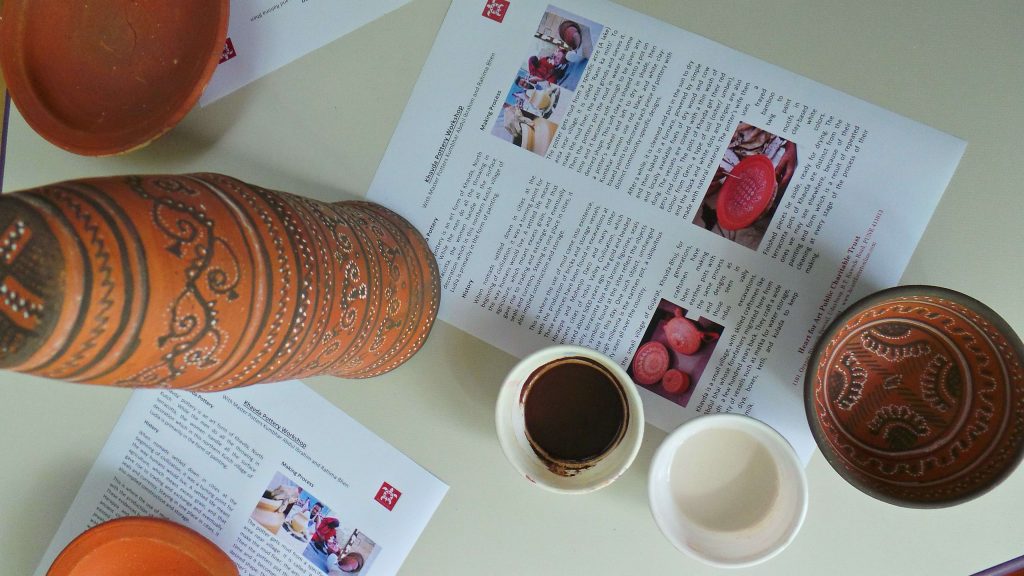 At the workshop conducted by heartforart, I see pottery items painted with beautiful reddish black and white colours. The lady who paints this has a shy beguiling smile. Using her creativity, she paints designs on them as she imagines them, taking her inspiration from nature….the scorpion, flowers are some we asked her about. As I interacted with her, she was equally curious and wanted to know if I had visited Kutch…When I said I intended to, I immediately got an invite to her house…to taste bajre ki roti aur chutney…how sweet is that.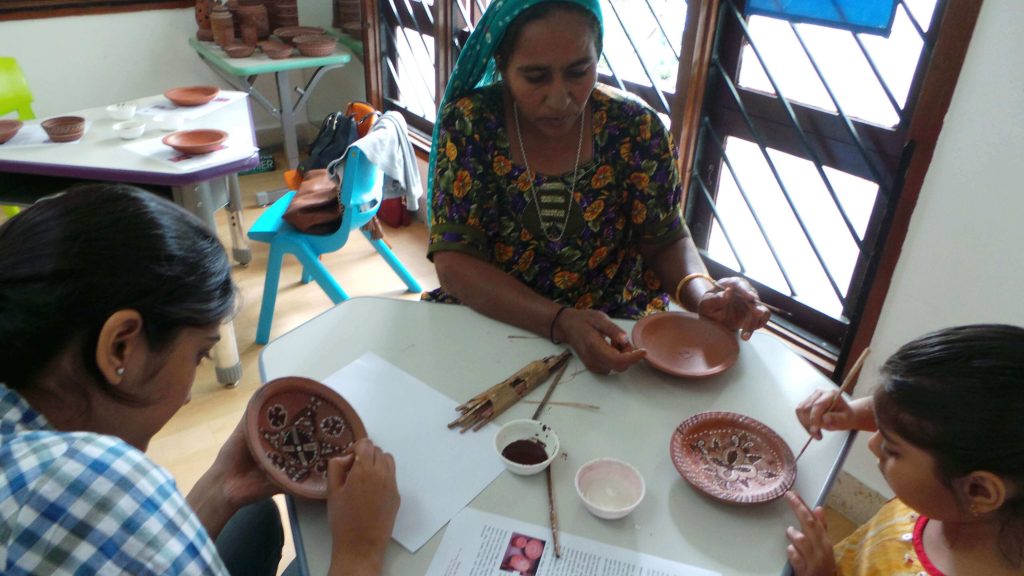 I ask her about her kids and how they manage when the parents are away at workshops and exhibitions.She says her mother-in-law takes care of them (I so love the joint family system). They are three of them who work on the pottery, her husband, mother-in-law and herself. When I ask her about the other families who used to work on this craft, she is a little sad, "Not any more…no one other than us works on this. It is a lot of hard work and not enough people who appreciate." She talks of her father who used to do this work and her brother, but now he is a truck driver……
Abdul Ibrahim, her husband is equally friendly….. As we chat, he speaks of these workshops which help them establish their craft and get contacts for commissioned work. He has received orders for dinner sets from Pune, Delhi and Calcutta. Most of their sales happen during Rann Utsav, when there is a celebratory atmosphere and lots of tourists…definitely on my bucket list now.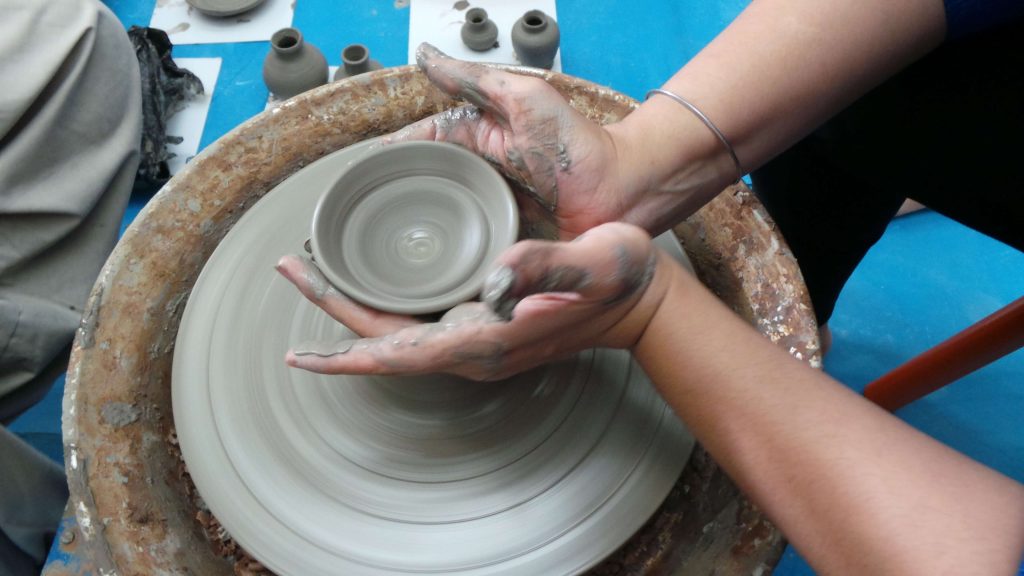 As usual I cannot help it…I advise (somebody help me in this….bad, bad habit).
"Abdul Bhai, why not have the bottles with a wider rim? We may break it while cleaning".
He smiles and answers, "It's ok Madamji, you buy another.Otherwise how will I have a livelihood????"
Good question…but then you are in Kutch. "Madam phone karlijiye ya email??"Dduh…Off course…
(Madam, you can place a telephonic order or by email)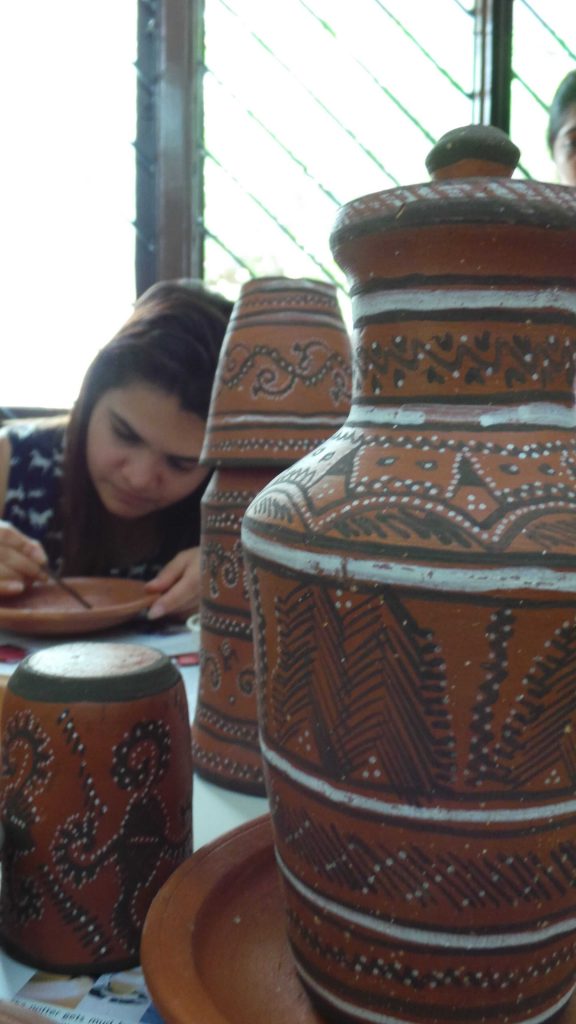 There is a pride in them, for having kept at it, and in spite of the odds. Not an easy job to collect the clay, work with it, suffer a loss- when wares break in transport…it is a lot of hard work. But theirs is the only family practicing the craft. "We have to do it", they say……
They don't expect charity…they only want our patronage. "Can we do it???" This is the question we have to answer.
Twinkles to you…have a happy day.
Anupama