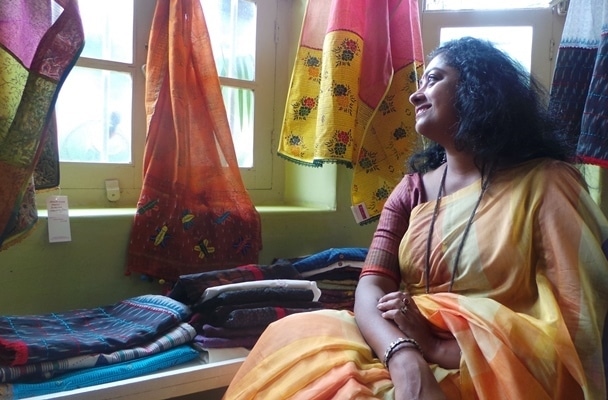 Meeting Rema was on my to do list like forever. So we finally meet at Ambara and I am thrilled to bits. For those not familiar with her work, she is a textile designerj based in Delhi. Her USP is in the creation of woven narratives, sarees and fabric created in collaboration with weavers. It's the coming together of the familiar and age old with the modern sensibilities.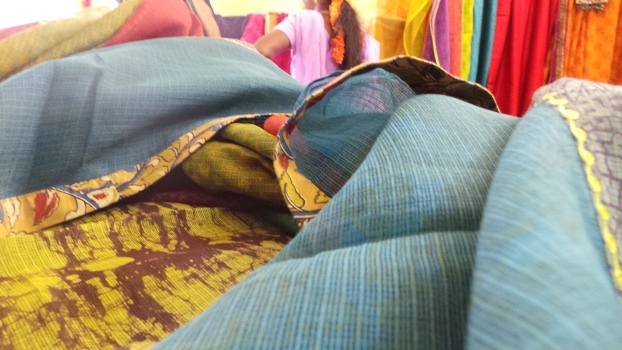 I was not very familiar with the different weaves and textiles, but the whole purpose of my visit was to learn. If you have met Rema you know her nature of making you feel welcome and totally at ease. She patiently explained the weaves, the places they came from and her experience with the Weavers. We sometimes think it's only with education that we are equipped. But Rema tells me that it was more of a learning on the job. It was only when she was working that she learnt of the traditional weaves and crafts. From therein it was her struggle to incorporate them into her designs. Work with fabrics that would make the saree an everyday wear which is chic, fashionable and at the same time comfortable.
She talks of our generation which has seen our mothers and grandmothers in sarees but the next generation will not be as familiar with it. At this rate it is only natural that the demand will come down and so too the Weavers. With every Weaver who stops weaving we lose out on a slice of our traditional weaves and patterns.These are now lost to us forever. She mentions the many tribal weaves that are lost to us in Assam.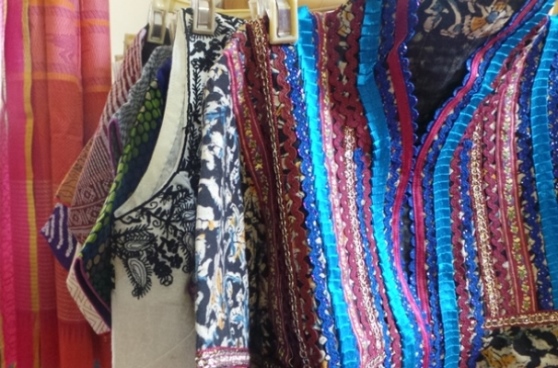 She recollects a young man who came in to buy a saree for his sister. As they chatted he said that his parents were also Weavers. Interested Rema asked him why he had not taken up weaving. Affronted he answers that he is an engineer. 
The problem here is that we are so culturally rich that we have forgotten how precious our heritage is and how priceless. The westernisation has blinded us to the true beauty around us. Inspite of growing consumption and liberal spending habits, the Weavers are struggling to make ends meet. For them it's a matter of pride if their children move away from the traditional profession. Not surprising when we don't recognise and honour the skill of the Weaver. Each piece, every saree is like a work of art.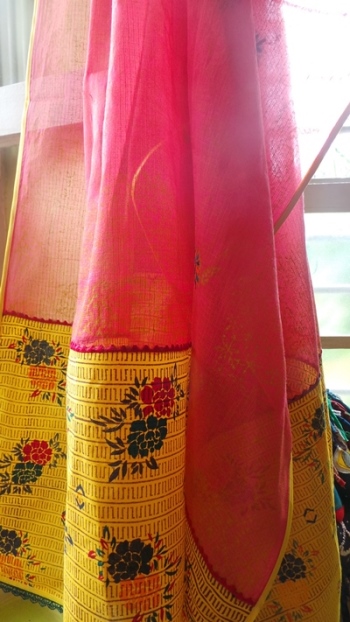 Rema has travelled and experienced India in it's true sense. Far and wide, she has lived with Weavers, in makeshift arrangements and truly soaked in the essence of our rich country. She loves visiting the local market or the santhe(fair) in villages. She once picked up a beautiful fabric from the fair and it's now a pretty duppatta. Her eye for detail is her signature style which makes her creations stand out.Her work in the south ranges from Balrampura, Kerala, Mangalgiri, Maheshwari, Kalahasti and Machalipatnam. Warangal was again as part of the Dastakar Design intervention project for woven dhurries. In Kalamkari she has done contemporary work with her designs. I in fact couldn't resist a beautiful multi coloured Kota with Kalamkari border. Will show you that one as well. She has worked in South silks, khadi, kuppadam, temple border, pondur, Andhra and Mandapet. After cotton, designs in Chanderi, tusssar and Kota are very popular for office wear. They can look formal or semi formal depending on how you accessorise and drape them. These are embellished with Dori work and block prints. Rema mentions the Batik in Ajrakhpur which was very good but they have now shifted to Ajrakh as it's now more popular. We talk of Ajrakh which is a natural dye that happens in 16 stages….16 you guys! That's mind blowing.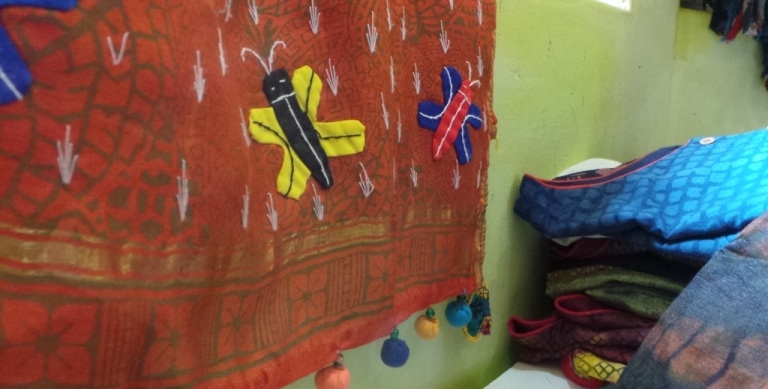 Rema does not like to tamper with traditional designs. Her endeavour is to popularise and bring a sense of pride in children for this craft. This a dream shared by her husband, artist Puneet Kaushik as well. She laughs and says that he is more of a textile lover and has a beautiful collection of textiles. They give textile talks, create awareness and spread their love for crafts. They especially love interacting with children in schools and talk to them about the different weaves. This is especially true in urban settings where children are not aware of the traditional crafts and handloom.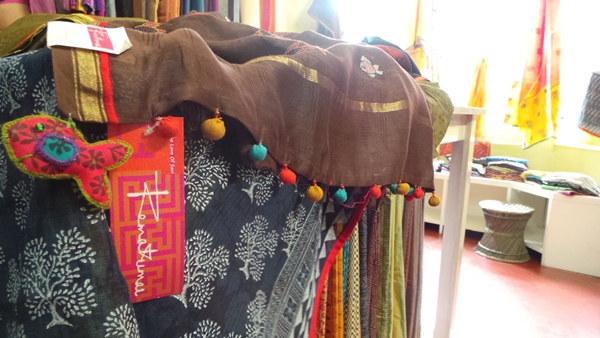 She sadly recollects her interaction with skilled ari workers in Kutch. The Ari workers whose ancestors had royal patronage were now working as labourers in building construction. And Ari is so beautiful. But this skill and the value of their work is not recognised. I felt so saddened. This is after all just one incident that we know of. How many more such unheard stories do we have?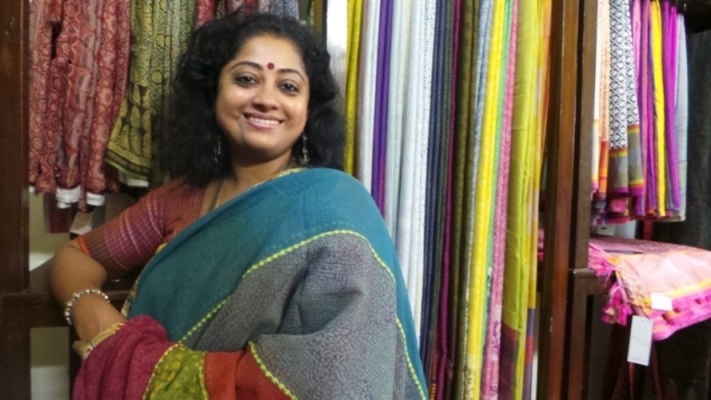 I ask her how we can change this. Rema's answer is for all of us. It is up to each one of us to change. Wear sarees as often as we can, it is feminine and yet free. Where there is demand, there is work. Demand is most important and it can change the game.
Her learning for textile designers is that it is not a glamorous job. Sometimes the facilities are the bare minimum but you can learn the ropes. With patience and persistence you will understand and develop your own style. 
As I am about to leave with my beautiful saree, I ask her of her favourite weave or fabric and she smiles saying that every piece has its charm. True that….
Now I am busy making plans of visiting Rema, seeing her block printing unit and exploring India. Did I tell you that travelling India is on my planner this year? I am going on a craft tour in Bikaner. More about it when I live it.

Lots of twinkles to all of you
Anu